Student Spotlight: Brooke Bradford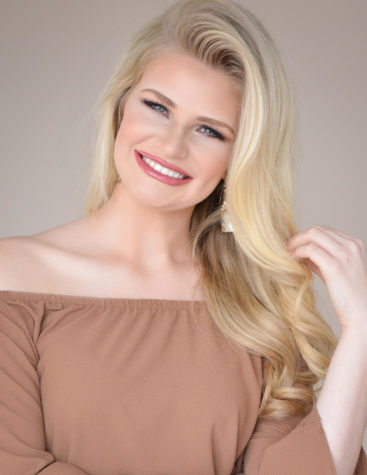 Brooke Bradford, a senior at Clinton High School, is a very active student here on campus. She is extremely involved in extracurricular activities such as FFA, BETA, and FCA. Brooke is known to be a natural leader and has stepped up to leadership roles throughout the years. Last year she was Beta's Vice-President, she led the Field of Christ in FCA.  She is most involved in FFA.  She has served on the officer team the past several years and is currently the chapter President.  She has shown livestock as well as competed in various different competitions and judging events.
Unlike most FFA girls, Brooke didn't grow up on a farm. In fact, she grew up pursuing a crown at local, state, or even national level pageants. Brooke can be your typical beauty queen or a one of kind cowgirl. She has been able to combine her love of pageantry and her love of agriculture, using agriculture as her pageant platform.  This summer she received fourth runner-up at the Miss Arkansas Outstanding Teen pageant as well as winning an award for her outstanding community service. Brooke cannot be put in a box as she has a wide variety of interests and talents.  She utilizes her interests and talents to not only further her future but those around her.
Her love for FFA came from the ability to help her society through farming. She was told that by 2050 the world's population would increase 34% higher than it is today. With that being said, growers will need to increase food production to a much higher rate. When Brooke saw a chance to make the world a better place, she wasn't hesitant to take it.
She is not only involved in clubs but also activities outside of school. At the moment, Brooke is the 4H club president and serves on the Teen Leadership Club for all of Van Buren Counties' 4H members. She is also a member of the Clinton Area Rotary Club. She volunteers for them and helps them with fundraisers and social media campaigns.
Brooke says  that one of the worst but greatest gifts she has is not being able to say no. She admits that sometimes she puts too much on her plate without realizing it. To her advantage, she is always productive with her time and doesn't let her involvement affect her school grades. She has managed to keep a high GPA with AP and college courses included.
Just when you thought Brooke's daily routine can't get any busier, she has two recent projects she is working on. One of them is her B Everything Blog. "That's a project I'm very proud of and excited to watch continue to grow. I'm always working on my personal platform 'Planting Seeds: the importance of Agriculture Education' so sharing the stories of farmers and agriculture education is a huge priority for me," Brooke stated.  Brooke's next project is establishing her own boutique. She has looked into it for three years, but just never had the time to go through it until about three months ago. When asked what her proudest accomplishments were she answered,"my most prized accomplishments are winning overall interview at Miss Arkansas' Outstanding Teen, winning Lieutenant Governor at Arkansas Girls State, winning the Arkansas FFA Extemporaneous speaking contest and then placing in the top 16 in the nation, winning the Arkansas FFA Discussion meet, and the fact that I've led about five fundraisers over the last two years which in total have raised over $15,000 for childhood cancer awareness and research."
Brooke allows herself to dream big and to set even bigger goals, but it never stops there. Once she meets her goals, she desires to reach even higher than the previous goal. Each achievement has led her to new doors. Brooke's plan after high school is to attend the University of Arkansas and major in Agriculture Communications and Political Science, but she would love to go to law school and then get a job in Washington, D.C. working to help educate Americans, through social media and marketing, on how legislation that affects agriculture will affect them as consumers. One of the many mottos Brooke lives by is, "If your dreams don't scare you, then they aren't big enough."