Hunting the Panthers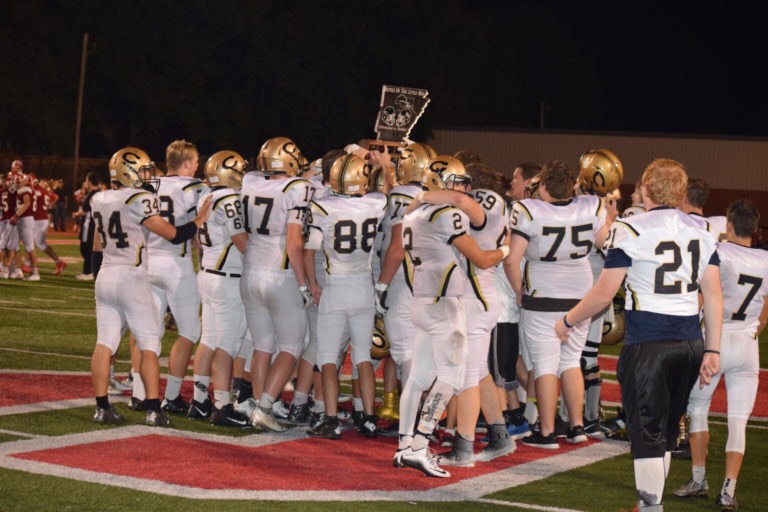 Kyler Hensley, Editor
August 21, 2018
No one is really sure when the rivalry between Heber Springs and Clinton began. Some may say it began the first time the two teams faced off in 1939. While others believe it began years later. Regardless of how it all began, the infamous rivalry is there. On August 31st, the two teams will meet for the 82nd game, and it just might be the biggest game yet. The all time record for the generational rivalry is 38-38-5. Clinton is looking to keep the trophy at home, and win the Battle of the Little Red for the 3rd straight year.
The Jackets are definitely the favorite in this year's rivalry as they are coming off a 12 win season, and currently ranked in the top 3 in 3A. As everyone knows, in a rivalry game you can throw rankings and records out the window because it will be a dog fight.
The Panthers would like nothing more than to upset the Jackets this year and regain the overall series lead. After an opening season loss to Clinton last year 28-17, Heber Springs fought back where they finished in a 3 way tie for first place for conference champions in the 2-4A conference. Heber Springs' strong junior class will be looking to prove they can play with the best in the state on the 31st.
This year as well as last, the generational rivalry has reached beyond the lines of the field. The two schools have decided to use the rivalry to do some good in the world.  There will be two charitable competitions prior to the big game: Tuesday August 28th, there will be a "dry" cat and dog food drive for the animal shelter to benefit the humane society, and Wednesday the 29th there will be a diaper and wipes drive to benefit the CALL. Clinton High School  is calling on the community to help them raise money to benefit these charities. Our goal is to not only beat Heber on the field, but off the field as well with our donations. If you are willing to help the Jackets the community drop off locations are 501 Studio Salon, Elite Automotive, Huddle House, Radio Shack, and all school campuses! Please donate to help the school show Heber the better side of the river!