Jacket Baseball Becomes Back to Back District Champions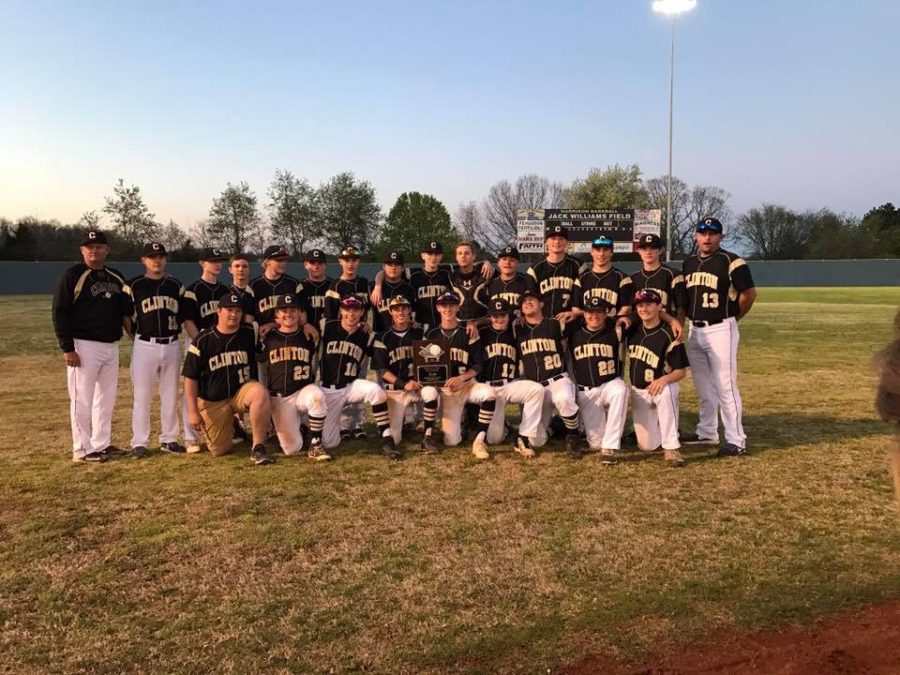 Tuesday, April 24th the Clinton Yellowjackets played their first game of the district tournament against the Marshall Bobcats. Sophomore Kragen Bradley started on the mound for Clinton. Kragen was on for the Yellowjackets. Bradley struck out 9 out of the 10 batters faced. The offense was rolling too. Clinton had home runs from Avery Bramlett, John-Riley Hinchy, and 2 from Stiles Booher and Bryce Dodd. Junior Keaton Gresham threw 1 inning giving up 2 runs. Then Junior Aaron Hogue came in and closed the game. Hogue allowed 0 runs on 0 hits striking out 2 in 1 inning. Clinton won in 5 innings 23-2. Kragen Bradley was the winning pitcher improving his record on the season to 4-2. This win guaranteed Clinton a spot in the regional tournament. This made Clinton 17-5 on the season.
Friday, April 27th Clinton traveled back to Harrison to play in the semi-finals of the district tournament. Clinton played the Melbourne Bearkatz. Bryce Dodd started on the mound for the Yellowjackets. Clinton was also stroking the ball including a grand slam home run from Ty Johnson. Aaron Hogue pitched a no hit shutout inning on the mound for the Yellowjackets. Junior Keaton Gresham also pitched an inning. Clinton scored 18 runs and held the Bearkatz to 2 runs. This win advanced Clinton to the district championship. Bryce Dodd was the winning pitcher improving his record to 4-0 on the season.
Later that day the Yellowjackets played the Valley Springs Tigers in the District Championship. Ty Johnson started on the mound, and he was lights out. Bryce Dodd led off the bottom of the first with a walk. Then Dodd stole second. Dodd then advanced to third on a groundout to first base. Aaron Hogue drove Dodd in with a double down the right field line. Booher reached base on a walk and Hogue and Booher advanced to third and second on a wild pitch. Junior Ryley McDonald drove in both runs with a double. The Valley Springs Tigers could not figure out Arkansas Tech commit Ty Johnson on the mound. Johnson pitched a complete game (7 innings) allowing 0 earned runs. Clinton drafted Valley Springs 3-2 to become back to back District Champions.
The Clinton Yellowjackets will be a number one seed going into the regional tournament and will play a number four seed. Clinton will play Friday, May 4th at 3:00 in Harrison, Arkansas against the Walnut Ridge Bobcats. Clinton must win their first game to advance to the state tournament.