January Student and Teacher of the Month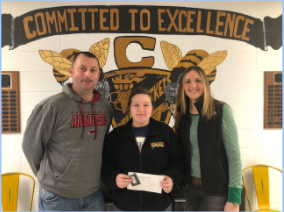 Student of the Month:
Sadie Anderson, a freshman, was selected as student of the month for January! Sadie always encourages other students to do good. Many teachers and students see her complimenting others on campus, and she always has a smile! She is positive and spreads that wherever she goes.
Teacher of the Month:
Mrs. Bartolotta, the Geometry teacher, was teacher of the month for January! Mrs. Bartolotta is always helping students and going out of her way to make sure her students understand what is going on. She is very hands on and is always encouraging everyone. She is always in a good mood and always spreads that amongst the students of the high school!