October Student and Teacher of the Month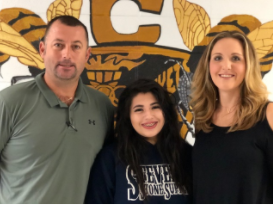 The teacher of the month is Ruth Taylor, a special education teacher at Clinton High School. Ms. Taylor has transformed learning for her students. She is enthusiastic, calming, funny, loving, giving, and kind to all. She is a leader in and out of the classroom. We are thankful for her leadership and glad she is part of our school.
The student of the month is Alondra Carrizales, a senior at Clinton High School.  Alondra works hard to get her work done and doesn't wait until the last minute. She is often called on by other students for help; she is always to help out when called upon. Alondra is very involved in her school EAST, Beta, and various other extracurricular activities.