CHS Football Improves to 6-0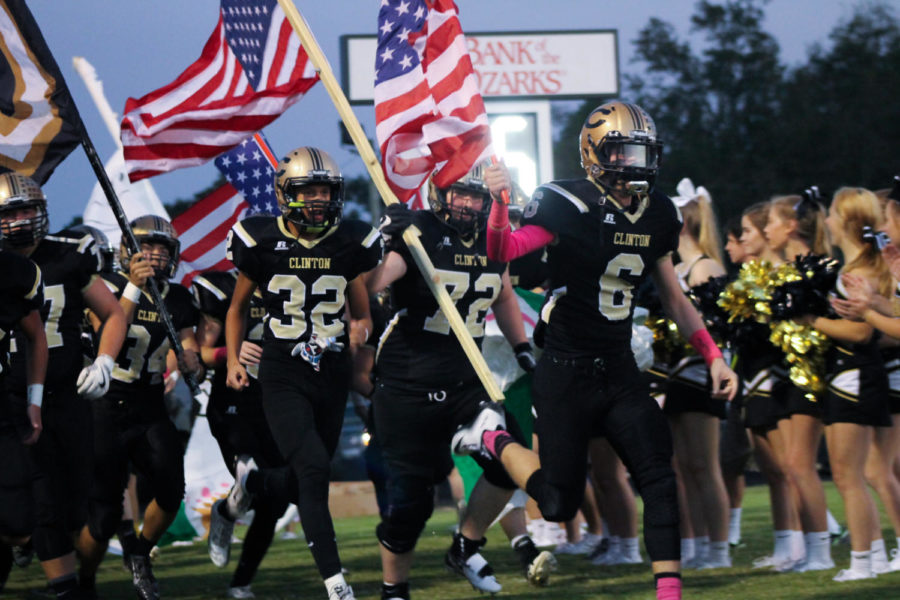 Kyler Hensley, Spo
October 11, 2017
CLINTON, Ark, — The No. 4 ranked team in 3A, the Jacket's (6-0) stout defense showed up and out again on Friday night's homecoming. They forced 5 turnovers, and held the high powered offense of the 12th ranked Bearcats to just 12 points in their 39-12 "dub" in the Hooten's 3A game of the week. That is the 5th straight game the Jackets have allowed under 13 points.
Senior leaders of the Jackets defense Charlie Sowell and Nate Lonnon came up with two huge interceptions to go along with Sophomore Jayden Exzabe's  pick in the win. Cort Bagley picked up a fumble and rumbled down the field for 22 yards before he was dragged down by what seemed to be the whole offense of the Bearcats.  Junior Jonathan Carter snatched up another fumble and carried it 5 yards before being tackled. Bryce Brawner, Reuben Dawson, Clint Bagley, John Riley Hinchey, and Mason Dowell were other players for the undefeated Jackets that made a tackle in a big situation.
The Jackets offense had another successful week behind the talented sophomore QB Weston Amos. Amos completed 5 of 7 passes for 100 yards and a touchdown. His longest pass of the night happened when he connected with Sowell for 79 yards and a touchdown.  He also connected with Ethan Drake twice for 20 yards.
The Jackets run game was too much for Melbourne to hold Friday night as fullback John Riley Hinchey rushed 11 times for 70 yards and a touchdown. Caleb Bowman carried the ball one time for 14 yards and a touchdown before leaving the game due to injury. He is okay and there is a possibility the Yellowjackets will get their Junior leader back this Friday night for conference opponent Elkins. Finally, Cadence Sowell left his mark on the game when he sprinted for 50 yards and a touchdown to finalize the statement win for the Jackets.
Your Clinton Yellowjackets have enjoyed Junior running back Sky Davidson this season, as he leads the team in rushing yards this season with 355, and 6 touchdowns. Friday night was no different. Davidson plowed his way to 75 yards and 2 touchdowns on a team high 12 carries. # 34 also had his first start of the year at middle linebacker, and it didn't take long for him to show he knew the position, as he paced the Jackets with 8 solo tackles,  5 assisted tackles, 2 sacks, and 2 forced fumbles. His play earned him Van Buren County Farm Bureau Player of the Week for the second time this year.
The First Arkansas Bank and Trust Player of the game this week was Senior leader Nate Lonnon. Lonnon completed the game with 5 solo tackles, 2 broken up passes, and an interception.
The Jackets travel to Elkins this Friday night as they look to avenge their last year's loss on homecoming. Once again the Jackets defense will be tested as Elkins looks to throw the ball. Game time is set for 7 P.M.