CHS Football
Blake Burgess
October 4, 2019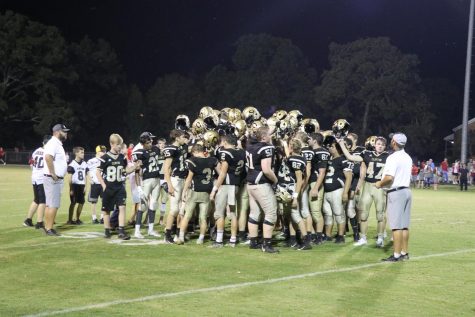 After winning the Battle of the Little Red for the fourth consecutive year, the Jackets began to roll in victories. The Jackets have shown great chemistry as a team, due to the fact that many of these seniors have been playing together since their Pee Wee years. Their leadership, hard work and determination is paying off as seen in the 48 – 6 win vs Conway Christian. Next on the schedule for the Clinton Yellowjackets was Central Arkansas Christian. 
The Jackets brought home another win, 55-21. The whole offensive line was named "Player of the Game" by First Arkansas Bank and Trust, which another example of great teamwork. The Jackets then played Harding Academy. The result of the game concluded the Yellow Jackets 2 year winning streak with a score of 57-44. The Jackets fought hard and like any great team. They have won together, fought together, bled together, and on Friday night experienced a loss together. 
Senior quarterback, Weston Amos said, "To me, the only thing negative about Friday's loss to Harding Academy was that we lost the game. What we gained from it was so much more than if we were to win. Now of course I love to win, and I would've taken the win last Friday, but that wouldn't have had the same effect on our team. A great team is made due to errors, mistakes, and losses. Losing brings humbleness to the ones who lose. It shows we aren't unstoppable and it shows how much harder we will have to work from this point on. So much heart was displayed last Friday from our Yellow Jackets, and that alone can't be taught. This, being my first regular season loss in my entire high school career, only makes me want to work even harder for those in the stands on Friday nights. What's next for us is to get back on track and get the train rolling again." Someone once said, "I never lose. Either I win or I learn." The Jackets will learn and come back strong as they take on the next conference opponent, Melbourne on Friday, Oct. 4th.