The Battle of the Little Red
Kathy Quintero
September 27, 2019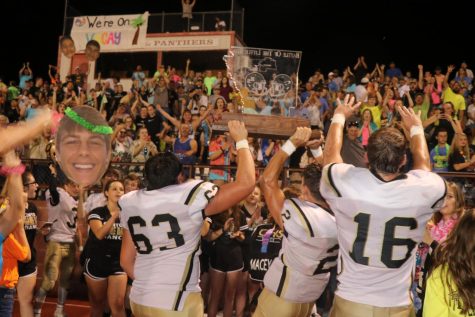 The infamous rivalry between Clinton and Heber Springs began since the dawn of time. Four years ago, the rivalry was officially known as Battle of the Little Red. The CHS football team successfully brought home the trophy for the fourth time in a row, which is also known as the #4Peat. 
On September 6, 2019, the Battle of the Little Red took place at Heber Springs. The official kickoff was at 7:00 pm. The entire CHS student section was filled with cheers for the Yellow Jackets during the entire football game. When the score was in our favor, we cheered on our team on and even when the scores were not in our favor, the support did not fade. The CHS football team gave it their all during the whole game, and did not disappoint.
 Players John Riley Hinchey, Logan Moudy, and Weston Amos all scored touchdowns throughout the game. The scores were neck and neck for the majority of the game. There was extreme suspense at the end of the game when Heber Springs did not make the two-point conversion to win the game. Overall, the final score was 28-27 which declared yet another win against Heber for the Yellow Jackets.