Clinton Baseball Wins District Championship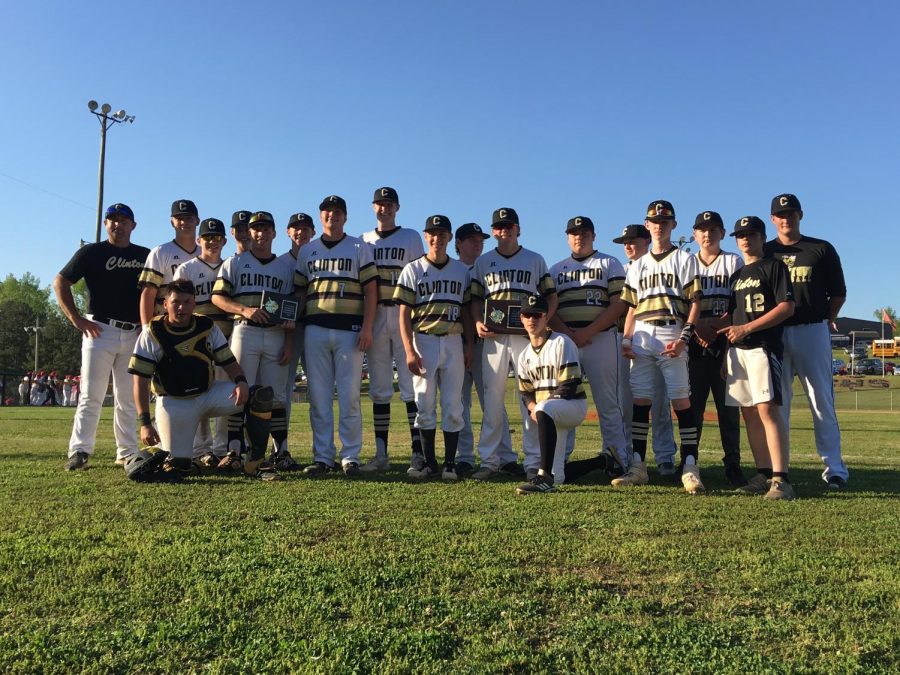 Monday, April 22 the Clinton Yellow Jacket baseball team played their first round of the District Tournament. The Jackets played the 7 seeded Marshall Bobcats. Junior Reid Hensley got the start on the bump against the Bobcats. In the top of the first inning Hensley shut the Bobcats down in order. Then Clinton offense was loud scoring 15 runs in the bottom of the first inning. Clinton would score 2 more runs later in the game. Hensley would pitch the whole game that Clinton went on to win 17-1 in 3 innings. This win would clinch berth into the regional tournament the next week in West Fork.
Thursday, April 23 the Jackets played the Green Forest Tigers in the second round of the District Tournament. Junior Kragen Bradley would get the start for this game. Bradley would pitch 4 hitless innings with 7 strikeouts. The offense backed up Bradley scoring 10 runs in 4 innings topped off with a 4th inning 2 run homerun by senior Aaron Hogue. Hogue would come in to close the game in the top of the fifth striking out 2 of 3. Bradley and Hogue pitched for a combined no hitter against Green Forest. Clinton would win 10-0 in 5 innings. This win put Clinton in the Championship game against regular season conference winner Rose Bud.
Friday, April 26 Clinton baseball would play in the District Championship for the 3rd straight year. Clinton had lost 5-11 and 3-2 in 2 early season matchups against Rose Bud. This was a battle between the 1 and 2 seed in the tournament. Rose Bud had their ace Jones on the mound. Clinton was starting their senior pitcher Aaron Hogue. Clinton would be the visiting team being the lower seed. Clinton jumped on Rose Bud early scoring 2 in the top of the first on a single from senior Ryley McDonald. Hogue was dominant on the mound. Hogue struckout 6 in the first 2 innings. The Clinton offense kept adding on runs to support their senior pitcher. Hogue would pitch 6 innings striking out 11 and only allowing 1 earned run. Junior Kragen Bradley would come in the 7th inning to close the door on the Ramblers. Bradley struckout 3 in the the 7th inning closing the game with a final score of 8-4. This District Tournament win would be the 3rd straight for the Clinton Baseball program.
This District Tournament win put Clinton in the 1 seed in Regional Tournament play in West Fork. Clinton will play the Elkins Elks on Thursday, May 2 in the first round of the Regional Tournament. The game will start at 10:00 am. With a win against the Elks Clinton will clinch state tournament berth for the 4th straight year. Congratulation to the baseball team with a District Championship now let's go get a Regional Championship. Go Jackets!!!