12 Days of Christmas at CHS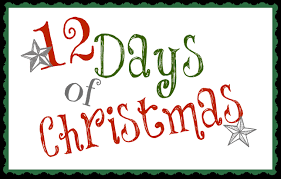 It's beginning to look alot like Christmas!  Clinton High School is giving the staff and students the opportunity to show their Christmas spirit from Dec 3 to Dec 18! There are 12 days with different outfit themes everyday! Everyone get creative and show your Christmas spirit!
Day 1 Spirit of the Season: Wear your red and green and start the countdown!
Day 2 Tree Topper: Dig out your favorite holiday hat, headband, or tree topper to wear.
Day 3 Faux Fur: Wear your over the top fur!  Think ear muffs, scarves, jackets, vests, boots, etc.
Day 4 Deck the Halls: Bring out your favorite holiday accessories.  Think holiday jewelry, necklaces, garland, etc.
Day 5 Dream a Little Dream: School appropriate pajama pants
Day 6 Jingle Bells: This is simple.  Wear bells! Make sure Santa knows where you are!
Day 7 Shine Bright Like a Light: Light up your wardrobe with holiday lights, glitter, tinsel, light-up necklaces, etc.
Day 8 Christmas Vacation: Hawaiian shirts, hula shirts, sun-glasses, etc. (No inappropriate swimwear).
Day 9 Santa's Ho-Ho-Hoedown: Dress in your favorite western-wear and cowboy hats.
Day 10 Mad About Plaid: Wear your favorite flannel shirt, pants, suits, etc.
Day 11 Dashing Through the Snow: Dress as one of Santa's reindeer.
Day 12 Ugly Sweaters: Break out your Tackiest sweaters!