CHS Theater Presents The Odyssey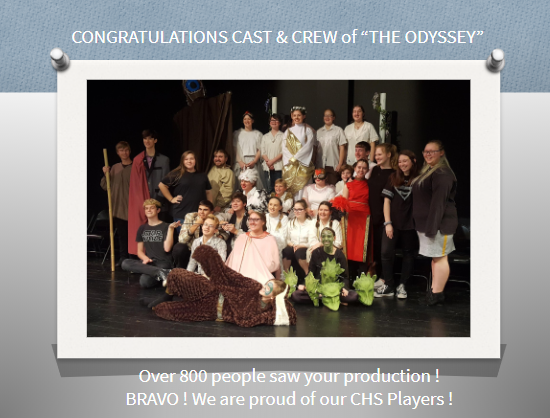 Hang on for a minute...we're trying to find some more stories you might like.
Theater's Fall Production: The Odyssey
Clinton High School Theater presented a very famous and well loved play, The Odyssey! Multiple showings of this classic tale were exhibited in the Clinton High School Auditorium this past week. This year's cast and crew were very excited to show what they have been working on!
The set up of the play was a bit different than most plays they have showed in the past. The audience was more involved in the experience. The play was designed to make the audience feel like they are in ancient Greek mythology. The audience was seated on stage, surrounding the actors as they performed.
The Odyssey is about the victorious Greek hero Odysseus who has still not come back to his home, Ithaca. A bunch of ruthless and unruly suitors, thinking that Odysseus is dead, have overrun his palace, courting his loyal, yet weakening, wife, Penelope. He meets all types of mythical creatures, adventuring on very dangerous missions and quests, and is trying his best to make it back home to his wife and son.
The entire Theater cast and crew were very excited to put together this classic play for the students and families of Clinton! They had a blast performing and showing some of what our Theater program can do! There will be more plays and musicals to come, and we hope to see you in the audience!