Clinton Jr Girls Win Bald Knob Tournament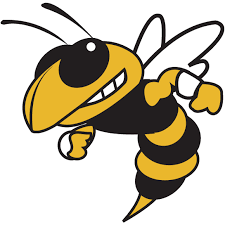 The Clinton Jr. girls won the Bald Knob Invitational Tournament Saturday afternoon with a win over
Jonesboro Westside. Clinton won 3 games in route to the championship. It was the third consecutive
season for the Lady Yellowjackets to be the tournament champions.
Clinton opened tournament play on Monday with a 40-16 win over Bradford. The Lady Jackets raced out
to a 22-1 1st quarter lead and took a 26-5 lead into halftime. Eight different players scored for Clinton
with Kylie Lasater's 12 points and Sydney Standridge's 8 leading the way. In the s,emi-finals on
Thursday, Clinton defeated Lonoke 51-9. It was another big first half for the Yellowjackets as they took a
commanding 35-7 lead into the locker room. The Lady Jackets cruised in the second outscoring Lonoke
16-2. Eleven different players got into the scoring column for Clinton with Kylie Lasater again leading the
way with 12 points followed by Reese McDonald with 9.
In the championship game, the Lady Yellowjackets took on the very good Jonesboro Westside team. The
game was close throughout. Clinton held a 14-10 lead after one quarter and took a 24-19 lead into
halftime. Kylie Lasater had a huge 1st half, scoring 18 of Clinton's 24 points. Jonesboro Westside
tightened the defense on Lasater, holding her to only 4 points in the 2nd half as each team scored 7 points
in the 3rd quarter. Abigail Parks with 4 and Reese McDonald with 5 2nd half points helped to hold off Westside
down the stretch in the 4th quarter to give the Lady Jackets a 43-39 win and a third straight Bald
Tournament Championship. Head Coach Jeremy Carson's Jr. Jackets are now 4-0 on the season.